"They only cause confusion."
"They get in between me and the owner and I don't like that."
"They demand me to work in ways that are just not practical."
"They write me from their desk while they have no idea what they are talking about."
These are some of the comments I have heard about yacht management companies. Despite offering yacht management myself,... I totally get it!
It is ever so important to select the correct, in other words, relevant service provider!
There is a reason why we advertise ourselves as the Pocket Superyacht management company and why we stick to just yachts between 50ft and max 100ft (in reality max 24m waterline). The reason is that this size range requires its own detailed approach!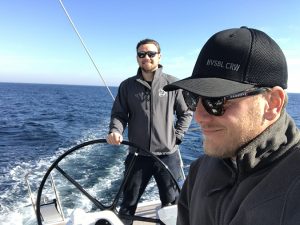 The crew needs to be able to maintain their personal / professional relationship with the owner -one of the hardest but also most important parts of the job- so this is where an intermediate has to tread carefully. Sometimes we bring an owners point home because we speak the same language as the crew, but sometimes we are advocates of the crew supporting their opinion. All of this helps to create a long standing owner / crew relationship.
When a management company implements reporting systems, for finances or maintenance, it has to solve a problem and not create heaps of extra data entry work that no one will ever read again. Reports should adhere to rules and regulations - which on Pocket Superyachts are less complicated than on +24m yachts - and they should serve the purpose efficiently.
In the end, everything that a management company does should assist the crew and lift them to the highest level of professionalism. The end goal is to offer the owners an exceptional experience.
Crew often have the feeling that they are working for the management company but they should be working WITH the management company. While management is there to keep people on their toes, coach and motivate them, crew should also be able to call upon the management to organise travel arrangements, extra crew, berthing, contractors, etcetera... Anything to take away some of the workload so they can focus on keeping the yacht and its guests happy.
So management companies shouldn't be a pain, management companies should make you look good. When you apply to run a Pocket Superyacht, usually as a very small team of 2 or 3 if not alone, owners appreciate that you come up with a professional framework that reassure all operations are covered even if you become (temporarily) unavailable.
We are very proud of the references that we have received from some of the captains that we work with. Although generally the owners are the ones who contract us and pay our bill, it is important for us that the crews experience the added value as well.
Captain Andrew Joos of the commercial sail yacht Allegro wrote:
"The understanding of crew dynamics enables Invisible Crew to assist with a knowledgeable outlook benefiting all involved. IC's team works extremely well under pressure and will go out of their way to assist whilst procuring temporary crew or trouble shooting a maintenance issue needing immediate attention."
Captain Josh Nuttall Smith of private sail yacht Aenea added: "Invisible Crew proved to be an asset to the boat and a valuable addition to our team onboard S/Y Aenea. From leveraging their contacts to find us a last-minute marina booking during peak times, to arranging contractors and delivery crew, I.C. provides a high-quality of service and industry knowledge."
Contact jens@invisiblecrew.com if you would like to enjoy our support as well.