It's one of the exciting things about yachts; there's always something new to learn! The current thinking is that it should be a process of trial and error taking years to learn how to run a yacht. However, the current reality is that we are in dire need of young, energetic, personable and… ideally, highly knowledgeable crew to run luxury yachts between 50 and 100ft!
Brands like Lagoon are splashing a new luxury catamaran between 50ft and 78ft every 2,5 days(!) and CNB is launching hull number 25 of the 76' less than 3 years after the first one was christened, Swan is doing as good as ever and Oyster is seemingly back on its feet.
The market of Pocket Superyachts is booming and there is not enough time for crew to grow in their role and learn all the different aspects of running a yacht before being expected to be an expert. And it's not their fault at all!
Every Pocket Superyacht captain carries a set of dark secrets with them…
This is a problem that the industry has created for itself. The high demand for new blood sucks people into positions, biting off more than they can chew.
The dark secrets are:
– About 20% of the time you don't know exactly what you are doing!
– and (only) 10% of the time, that scares the living daylights out of you!
– 99% of the time you are too proud to ask for advise or help!
And again… you're not to blame.
Invisible Crew has been focusing on this niche for many years recognising it as an entry level for owners who haven't had crewed yachts before, as well as a stepping stone for crew's professional careers.
There has been no other opportunity available for crew to learn about all the many different aspects beyond navigation other than taking the helm as a paid captain, winging-it and hoping you don't embarrass yourself.
We want to help captains with a truly professional mindset to present themselves as real experts working in a professional framework and consequently securing the best jobs.
Our online program www.howtofindworkonpocketsuperyachts.com is both a course as well as an ever-growing database of knowledge for Pocket Superyacht captains.
From detailed explanations on how to prepare for charters and deliveries to dealing with outside contractors, psychology on board as well as mindset and attitude, up to extensive tutorials on all the technical aspects of the yacht.
So far we have involved surveyor Roland Perry and remote – first – aid specialist Amanda J Beaver as experts in their fields, with more to follow.
Our Tribe of Highly professional Pocket Superyacht Crew congregates in the closed Facebook group where professional pride is set aside in order to obtain quality answers to every question and learn from each other.
The interest in the program has been huge and after running a 1 year pilot with 4 participants we are now taking on new members and predict to have signed up minimum 40 more around this time next year.
Find out more on www.howtofindworkonpocketsuperyachts.com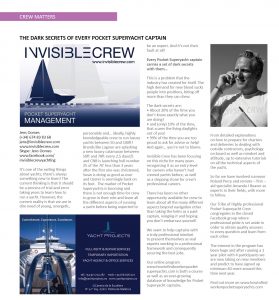 Article featured in The Islander magazine December 2019