On Saturday the 28th of April 2018 we organised the first PSCD in Hotel Costa Azul with the aim of providing a valuable, interesting day for those who have an interest in, work on or want to work on luxury yachts between 50ft and 100ft run to superyacht standards.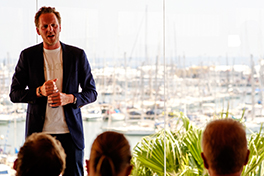 In the afternoon we gave a presentation on the past, the present and most of all the exciting future of Invisible Crew. In the future we will continue our mission to improve professional crew operations on Pocket Superyachts. Up until now we have done that with our management operations. But with a boutique business as Invisible Crew, selling a service that is not suitable for every PS owner, we felt we needed a stronger strategy to improve professionalism on a larger scale.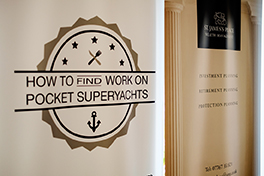 So we presented the attendees with our online course How To (Find) Work On Pocket Superyachts. We explained them exactly how incredibly extensive this course will be. The course is currently in it's pilot phase with 4 dedicated students who bought into the course at its conceptual stage. One of them managed to make it to the first PS Crew Day.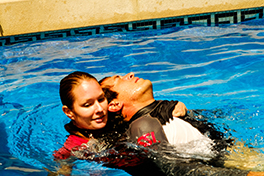 But it was in the first hour of the day that something unexpected happened. Brad Robertson, our marine conservation hero and the driving force behind Asociacion Ondine joined the audience before offering us a few real-life and in-pool extracts from his Superyacht Life Guard course.
Like all of us present, he was listening carefully to what our first speakers had to say.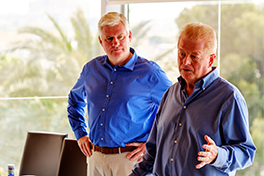 As work on Pocket Superyachts pays well, we thought it interesting to involve a highly reputable wealth management company to advice our attendees on the possibilities of carefully investing their earnings.
They gave us some ground rules on investing in stocks and bonds, the benefits and the danger of doing it incorrectly. Exactly how it's different from investing in property and so on.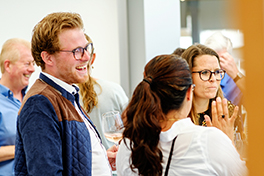 And then Brad Robertson had a question. In his no-frills Aussie speech he asked the two gentlemen if there was a way for young crew to make sure they would not be investing in companies that "rape the planet".
The speakers assured us that ethics are an important consideration when an investment portfolio is put together. Additionally they offer sustainable investment options that support companies who actively work at improving the environment.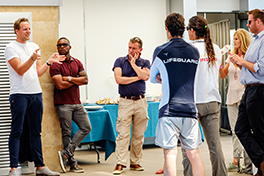 "However they generally offer a lower return than the others which discourages people from going for them." A passionate reply from many yachties present was that they would prefer a lower return on a greener investment!
This was a beautiful discovery for the investment experts. When one invests in stocks there is always the potential risk of losing your money. But if the biggest risk you run is to lose your money on an attempt to improve the world… perhaps it wouldn't feel as such a risk.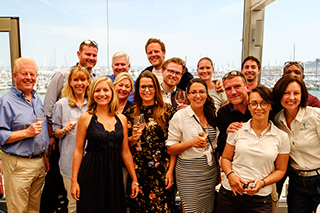 It was a nice, interesting day where knowledge was exchanged, networks expanded and the Invisible Crew team went home with inspiration to organise the next edition in October! Want to pre-reserve your spot? Send an email to Natalie.