Atlantic crossing 
It's that time of the year again when most yachts are preparing to cross the Atlantic aiming to be there for Christmas and New Year's eve.
Temporary crew
In the Pocket Superyacht niche, which we exclusively work with, we see owners hiring temporary crew to deliver their yachts across. Some of them don't have permanent crew and for others it is the right time for their crew to take time off between two busy seasons.
Experienced crew
At Invisible Crew we do quite a few of these deliveries every year. We price these deliveries in relevance to the size (and value) of the yacht. We only send crews who have done these types of trips multiple times before. We tend to send small but experienced teams. We see little use in spending travel expenses (only) on someone who has no idea what they will be doing on board these valuable yachts. Less people on board means fewer personalities to deal with. Not having enough experienced people is dangerous.
Less than 70 € a day?
Very recently I had an enquiry from an owner and upon receiving my quote he was surprised that we were twice as expensive as a professional yacht delivery company he had contacted. To prove his case, he sent me the very well presented quote (with perhaps a much better layout than mine!). They also take a gps tracker with them. So one thing you don't have to worry about is that they'll steal the yacht. Reading the quote I gathered that this company was going to send a team of people who would all be happy to be away from home for less than 70 € a day. Far less in fact, because, for the sake of convenience, I disregarded that the owner of the company would have to earn some money as well. The yacht in this story was not a bog-standard, run-of-the-mill-production-yacht. It was a multi million Euro yacht over 22 meters.
Okay, I'm not naïve, I know how it works; you send an "experienced" skipper, you give him a good day rate and he'll have to make sure the mile makers don't hurt themselves or damage the yacht. He'll have to sleep with one eye open! For 4 weeks.
Pay professionals as professionals
If you pay a professional team, you'd hope all team members get paid as professionals. Whoever can afford to go one month without a salary, either has very little responsibilities in their life, or, has got a sweet business going, but neither will be experienced or professional sailors.
Why do you want to avoid these companies like the plague?
Safety, safety, safety… The trained captain with his freebee crew is adding responsibilities to the job instead of sharing them. He now has to make sure the mile makers keep themselves safe but also, don't put the captain or the yacht in danger.
And just imagine that the auto pilot fails and two out of 4 crew have never helmed a 20+ meter yacht downwind… (insert emoji of monkey covering its eyes!)
Damage control interior: If you're new to luxury yachts, you don't understand how fragile the interiors are. Think: life jacket buckles being thrown on the floorboards, Leathermans scratching bulkheads, loose items flying around the salon, hatches not being closed when luffing up to reef for that first squall after days of downwind sailing…
Damage control exterior: Chafe prevention, powered winches (in the night), hydraulic furlers, reefing mainsails, Neptune-forbid the yacht having a spinnaker pole…
Engineering: Your experienced captain is now spending long hours down below fixing the generator or the watermaker. In the big ocean swell the yacht is rolling from port to starboard. His stress levels are rising, his energy levels are dropping. Your monkeys are now unsupervised on deck… Did he take the gennaker down before he started the repair? (insert emoji of monkey covering its ears)
You get my point:
If you think professionals are expensive, wait till you hire amateurs.
Concluding
I do agree that there is a big market for these companies to help those smaller, more standard yachts to get to their destinations. The little experience that the mile makers have will have probably been gained on 30ft to 50ft yachts anyway.
This is another reason why we label the 50ft to 100ft yachts as Pocket Superyachts. They're not Superyachts because of their size, but they're not vagabond cruisers either.
Finally, I've seen on forums like Palma Yacht Crew that many yachties are passionately against unpaid crewing experiences. After reading this article you may be surprised about my opinion on that which you can read here: https://www.invisiblecrew.com/mile-makers.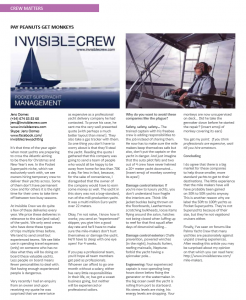 Article published in 'The Islander' Magazine October 2018