Covid-induced-uncertainty is clouding our clients winter cruising plans. So we are investigating quality options nearer to home.
Most years, the Canary islands are merely a stopover on the way to the Caribbean. I have personally visited Tenerife, Gran Canaria, La Gomera and Lanzarote. On each of my visits I have been surprised, intrigued, excited and curious to find out more about this large, and especially varied, archipelago.
To say that winters are mild here is an understatement. Apart from the odd cloudy January day, temperatures rarely drop below 16*C. Officially recorded highs are as warm as 23*C in November. Most importantly water temperatures don't drop below 18*C!
The real draw of these Atlantic Islands in the winter are not just it's diversity in vegetation and topography but it's great sailing conditions. The North Easterly Tradewinds provide a consistent force 3 to 4 breeze. The areas where the wind funnels between the islands are referred to as acceleration zones. An increase of 10 to 15 knots makes for exhilarating Atlantic sailing. It makes the passages between the different destinations fast and interesting.
There are many quality marinas receiving blue water yachts all year round.
Places I have personally visited:
Las Palmas, Gran Canaria
Las Palmas, Gran Canaria has a large marina where the ARC fleet gathers in the second half of November. There are possibilities to anchor right outside the marina as well. It has all the facilities required to prepare the yacht for the season (or crossing). In other words, it's a good base to work from. The city is big with some interesting site but I wouldn't refer to it as charming. The island itself is large and we've enjoyed a beautiful road trip there, driving through its lush mountains and visiting its historical sites.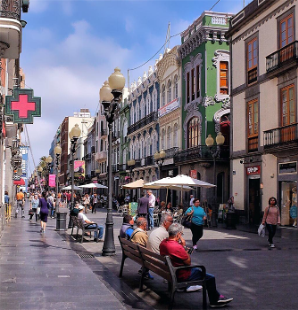 Santa Cruz Tenerife
Santa Cruz Tenerife is another large port in a big city with similar qualities to Las Palmas. If I would go again I would definitely go and climb the Teide. This volcano rises up to 3718m above sea level. Its surroundings are the Canary Island's largest National Park.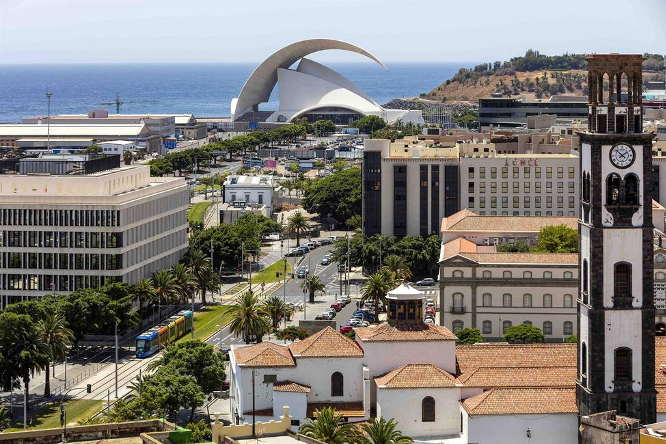 Since I have been there they have build the spectacular looking auditorium near the port.
Mount Teide National Park     
Lanzarote
Lanzarote offers a unique, barren volcanic landscape. In some places you feel like you are walking on the moon.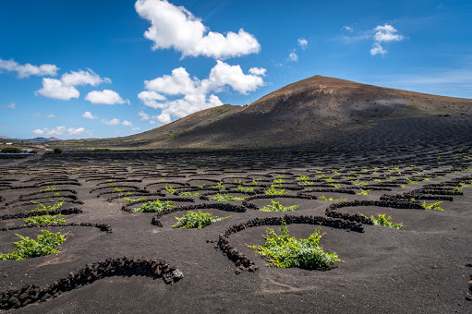 Lanzarote's unique vinyards, collecting dew for the grapes and protecting them from the wind.
Five great Canarian anchorages
(source: Yachting Monthly)

Volcanic badlands and crystal clear anchorages at the spectacular Montana Amarilla on Graciosa, an islet just north of Lanzarote

Playas de Papagayo, Lanzarote
A series of perfect sandy beaches with crystal-clear waters. Protected from the prevailing northeasterly winds. Around the point to the south, you find some of the Canaries' famous black sand beaches, many small and uncrowded.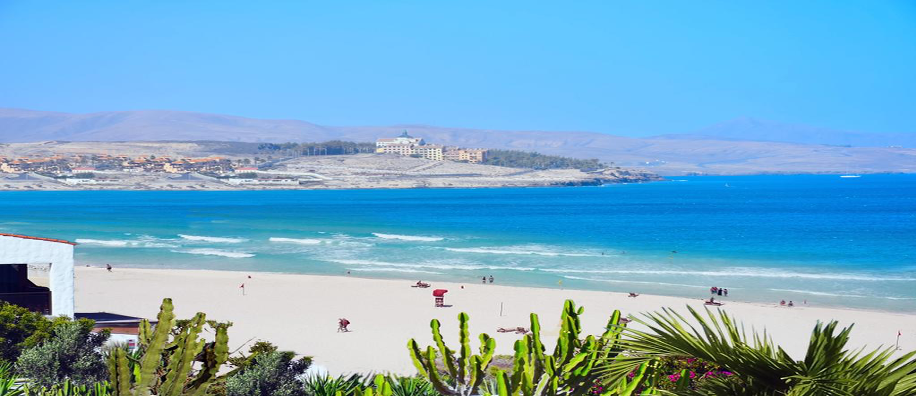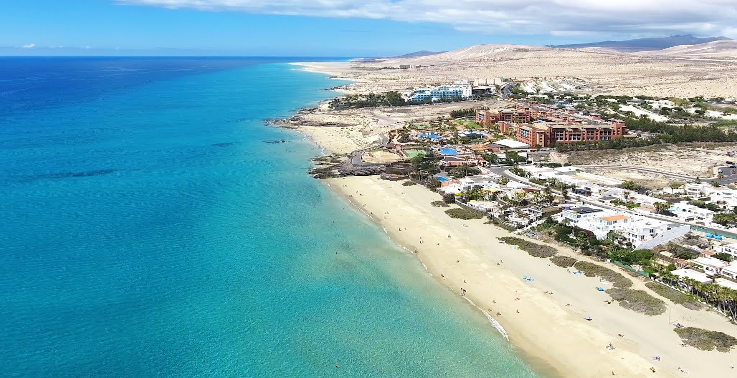 Costa Calma, Fuerteventura
Take your pick of a number of bays on this well-named coast, sheltered from the winds but open to an ocean swell at times.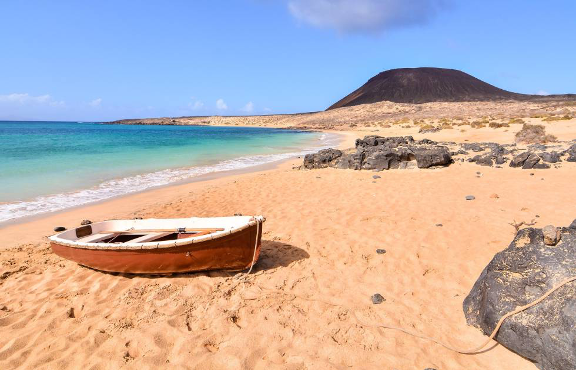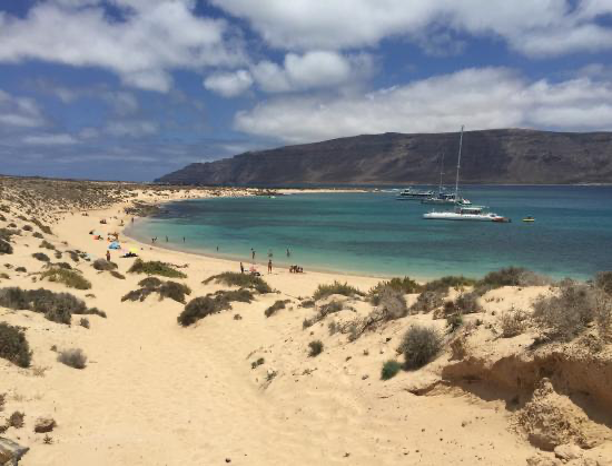 Playa Francesca, Isla de la Graciosa
Crystal-clear waters and a sandy bottom, but it can get busy here in the summer. Graciosa, just north of Lanzarote, is a marine reserve and boasts some of the most unspoilt beaches in the Canaries. Exposure to the Trade Winds mean great sailing here, too.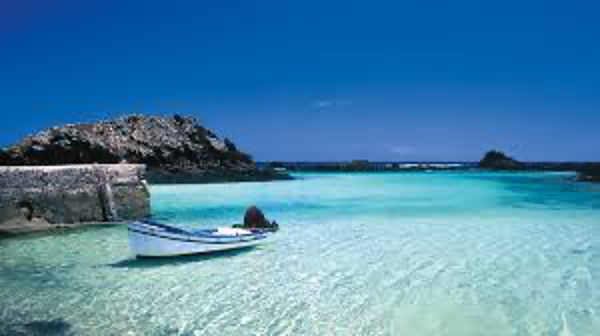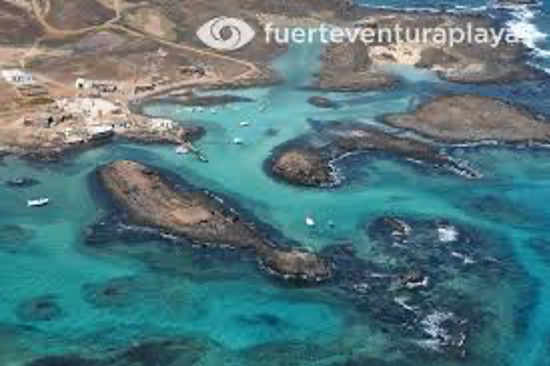 Playa de Lobos, Isla de Lobos
The islet of Lobos is a mile north of Fuerteventura. The beach is a sandy expanse making a neat cove, well protected from the north and north-east but subject to local winds. Idyllic nonetheless. Lobos's famous turquoise lagoons are a short walk away.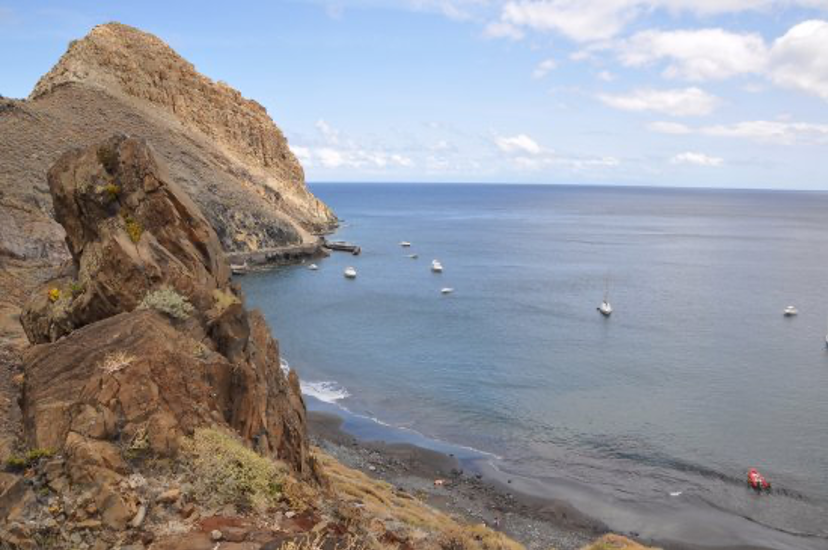 Bahia de Antequera, Tenerife
Sailing north from the capital, Santa Cruz, you'll find high cliffs and a sheltered bay just south of the island's north-east tip, part of a national park and protected from all but southerly winds.
Guide to the islands
LANZAROTE
Highlights
Has two of the archipelago's most popular marinas, both on the protected south coast: Puerto Calero and Marina Rubicon
Incredible landscapes of barren lava inland
Strict building controls mean it's relatively unspoilt
Be aware
Big Atlantic swells on the west coast
Sand intermittently blown from the Sahara
FUERTEVENTURA
Highlights
African feel with sand dunes, cacti, palm trees and wide plains
152 beaches
Year-round sunshine due to proximity to Africa
Be aware
Uncomfortable seas where the one-knot Canary Current meets the tide or contrary winds
Marine facilities are more low-key than Lanzarote
GRAN CANARIA
ARC yachts leave Muelle Deportivo marina, part of the Puerto de la Luz in Las Palmas, Gran Canaria
Highlights
The marvellously varied coast – from the banana plantations of the north to the sand dunes of the south
The Vela Latina, an indigenous dayboat design raced in large numbers over the summer
Many ports and harbours allow easy provisioning and shelter
Be aware
Las Palmas offers shops aplenty, but it does have has an urban sprawl, like any major city
Mass tourism in the south
TENERIFE
Tenerife's towering coast offers challenging sailing
Highlights
The 3,718m (12,000ft) snow-capped peak of Pico de Teide, a useful navigation mark
Colourful South American influence
Be aware
High cliffs and steep shores cause strong downgusts
The Pico (mountain) strengthens the Trade Winds to around 25 knots on the east side. Coupled with an adverse current, this makes it uncomfortable to sail in any direction but clockwise
LA PALMA
Highlights
Springs give the island lush vegetation
The largest volcanic crater in the world (16 miles across)
Be aware
Volcanoes are still active, having erupted in 1949 and 1971
Volcanic rocks and debris make anchoring difficult
The Canary Current is strongest here, reaching 2 knots at times
LA GOMERA
San Sebastian's black sand beach is right next to La Gomera's historic harbour
Highlights
The history – Columbus set off from San Sebastian in 1492, to discover America
Known as the 'most Canarian' of the islands, with a friendly atmosphere
The black-sand anchorages on the south coast
Be aware
Strongest tidal steams in the Canaries, up to three knots at times
High peaks inland mean big variations in coastal winds
EL HIERRO
Rocky Punta Orchilla at the western end of El Hierro was for years the end of the known world
Highlights
The most unspoilt island by far gives a real 'end of the world' feel
The staggering 1,000m (3,280ft)-high cliffs (once a volcano's lip)
around El Golfo
Be aware
Tidal rip off the southern point, La Restinga
Not many facilities