Writing for The Islander Magazine is not only great exposure, the actual writing is a good moment to reflect on how things are going with Invisible Crew. My lean little company is gaining momentum largely thanks to the great crew that I work with, the partnering companies with which we are creating ever closer bonds and a few individuals in my close circle. However, at this time of the year I probably wouldn't take an hour to have get an overview of all the things that are going on. They tend to just flash through my mind like a train passing by at full speed.
The 85ft Royal Huisman Ebb Tide is nearly ready for the season while going through its first crew change in four years, the time that it has been under Invisible Crew's management. Fons is handing over the helm, or better, the control over the engine room, to his fellow countryman Hans who will keep the yacht running smoothly with his Dutch craftsmanship. We hope to do more work with Fons in the future and we welcome Hans!
The CNB76 Aenea is keeping us busy booking berths in highly coveted marinas at busy times of the year and scheduling the retro fitting of some upgrades to this gorgeous new yacht between owner trips.
The Yapluka65 catamaran Imagine Heaven is back in the water with her smart new custom tender platform. This summer she will leave the beautiful Croatian archipelago after 6 seasons and she will make her way to Italy from where she will be shipped to Thailand! Another exciting prospect for our client and our team alike!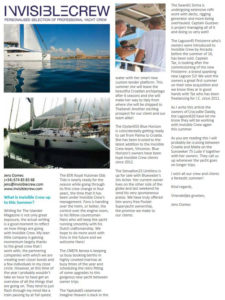 The Oyster655 Blue Horizon is coincidentally getting ready to sail from Palma to Croatia. She has been trusted to the latest addition to the Invisible Crew team, Vincenzo. Blue Horizon's owners have been loyal Invisible Crew clients since 2012.
The Sensation23 Limitless is up for sale with Bluewater's Jim Acher. Her current owner lives on the other side of the globe and last weekend he send his very spontaneous praise. We have truly offered him worry free Pocket Superyacht ownership, the promise we make to our clients.
The Swan61 Sirma is undergoing extensive refit work with decks, rigging generator and more being overhauled. Captain Gustavo is project managing all of it and doing so very well!
The Lagoon45 Finisterre who's owners were introduced to Invisible Crew by Ancasta before the summer of 16, has been sold. Captain Taz, is looking after the commissioning of the new Finisterre: a brand spanking new Lagoon 52! We wish the owners a great first summer on their new acquisition and we know they ar in good hands with Taz who has been freelancing for I.C. since 2011.
As I write this article the owners of Crocodile Daddy, the Lagoon620 have let me know they will be working with Invisible Crew again this summer.
As you are reading this I will probably be cruising between Croatia and Malta on the Sunseeker 75 Luda V together with her owners. They call us up whenever the yacht goes on longer trips.
I wish all our crew and clients a fantastic summer!
Jens Oomes (article featured in The Islander magazine June 2017)