Success story: Full Pocket Superyacht Management
Imagine Heaven Yapluka 65
Imagine Heaven chose for worry-free Full Pocket Superyacht Management
In the spring of 2015 we were contacted by the owner of the 21m catamaran Imagine Heaven. He was referred to us by our long standing clients of SY Crocodile Daddy. Initially he only wanted to sign up for our Crew Management service. He told us his 7 year old yacht was in need of a respray among other jobs. A superyacht consultancy company had refused to help him as they didn't bother with yachts below 44m.
In further correspondence, discussing the technical history of the yacht our technical expertise became more and more apparent to the client. We presented 4 quotes from different yards and companies. Together with the client we selected a German run yard in Croatia that was referred to us by our contacts at Sunseeker. The manager of the yard quickly gained the client's and our trust.
The combined expertise that the owner was now experiencing made him announce the Imagine Heaven 2.0 masterplan! He ordered a complete respray of the hull, superstructure and spars, a new teak deck and upgrade to customised flush hatches. He ordered to replace the dated AV system, communication system and all navigation equipment and much more. All the while he relied on the expertise and budget control of Invisible Crew.
Richard "Taz" Bernard has followed up the quality control and handled the more detailed jobs at the yard. The owner applauded our communication and mentioned that for the first time he feels truly informed of what is going on onboard his yacht. 
We have selected an experienced couple to run the catamaran as Captain and Stewardess/ Cook. We have set up the payroll arrangements, coached the crew on the expected standards and keep an open line with them to further support them in achieving the highest standards. We will support them with maintenance schedules, preference sheets, budget control and logistics.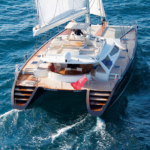 Interview with a happy owner: Patrick Bouwen
How did you come across Invisible Crew and what kind of services were you looking for exactly?
A business relation of mine who also has a 20 meter catamaran recommended Invisible Crew to me. I told him that I had owned Imagine Heaven for 7 years already but now I was lacking the time and energy to follow up on the many aspects involved; maintenance, crew, exploitation, etc.
You have completely outsourced the management of Imagine Heaven to Invisible Crew. Do you feel sufficiently informed on options and involved in decisions, such as choosing subcontractors. Or do you feel that you simply pay a premium to get the best of the best?
I always receive a list of motivated options. I have choices and can make educated decisions.
When I do the math, I am convinced that with Invisible Crew, I even save costs. I've been saved from a whole number of unjustified, useless expenses.
Invisible Crew's information and network in yachting is much more expansive than mine.
In terms of crew management, where do you feel the added value of Invisible Crew comes in?
It is not so much a matter of finding the best staff, it is key to to find crew that is coherent to the atmosphere, the size, call it the DNA of the yacht. At Invisible Crew they sense this very well. They don't overload you with a database of CV's. They sensed what we needed and proposed a number of CV's the fell into those criteria. To be able to do that, one really need to understand both the supply and demand in the story.
Do you feel it is beneficial for the crew too?
Yes, as I said before, Invisible Crew selects a crew that fits the yacht. Consequently the crew will feel good on that yacht. Crewing is not a straightforward job. So it is paramount to create a good environment for the crew itself.
How would you describe Jens Oomes and your interaction with him?
Jens has worked as a captain too and he is also very empathic. He will enquire and interview you to find out what you are looking for. He also knows how to keep the correct distance. He will not bother you if it's not required. In my case he sometimes takes the liberty to take certain decisions independantly which has always worked for me. He also requests regular evaluation. Not to contemplate the past but to take on lessons to make improvements for the future.
Who would you recommend Invisble Crew to?
Owners of small to midsize yachts, Pocket Superyachts, who require a concierge, engineer, financial adviser and butler all rolled into one.