I have just spent two weeks sailing through Holland on a 100 year old classic yacht. Iduna is an 8 meter class designed by Johan Anker (famous for the Dragon class) ​and built at Anker & Jensen in Norway some time between 1912 and 1916. ​She is a Pocket Superyacht in her own right​. Her interior is not much bigger than my pocket and she is super beautiful. Her restoration was completed in 2011 and executed with great attention to detail, bringing her back to her original glory. No expense was saved and no shortcuts were taken.
Life on board ​S/Y Iduna is simple and dry when it doesn't rain. Otherwise, the old lady always knows exactly where her owner sleeps. Water that leaks somewhere through the foredeck creeps its way underneath the Iroko deck planks to drip on Edward Balke's pillow, midships.​ ​
Edward has contacted Invisible Crew for the 4th consecutive year to provide him with a skilled sailor to assist him during his yearly holiday. This year I finally had the chance to go myself. (que: joke about skilled sailor.)
Although I'm Belgian, the waters of Holland bring back memories from my early days of sailing and I appreciate their beauty now more than ever before. Having spent the last 10 years sailing in warm waters on large comfortable yachts, I was a bit wary of the temperatures I was going to encounter. All I can say on that topic is that I bought a new set of foulies on day two. The good thing is that a windless day is very rare.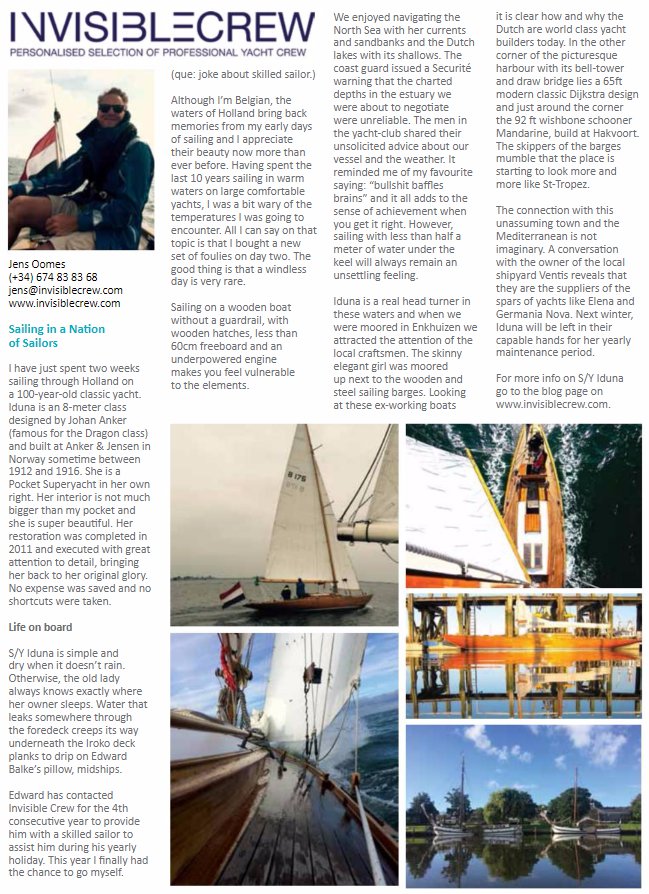 Sailing on a wooden boat without a guardrail, with wooden hatches, less than 60cm freeboard and an underpowered engine makes you feel vulnerable to the elements.
​We enjoyed navigating the North Sea with her currents and sandbanks and the Dutch lakes with its shallows. The coast guard issued a Securité warning that the charted depths in the estuary we were about to negotiate were unreliable. The men in the yacht-club shared their unsolicited advice about our vessel and the weather. It reminded me of my favourite saying: "bullshit baffles brains" and it all adds to the sense of achievement when you get it right. However, sailing with less than half a meter of water​ under the keel will always ​remain​ an unsettling feeling.
Iduna is a real head turner in these waters and when we were moored in Enkhuizen we attracted the attention of the local craftsmen. The skinny elegant girl was moored up next to the wooden and steel sailing barges. Looking at the these ex-working boats it is clear how and why the Dutch are world class yacht builders today. In the other corner of the picturesque harbour with its bell-tower and draw bridge lies a 65ft modern classic Dijkstra design and just around the corner the ​92​ ft wishbone schooner Mandarine, build at Hakvoort. The skippers of the barges mumble that the place is starting to look more and more like St-Tropez.
The connection with this unassuming town and the Mediterranean is not imaginary. A conversation with the owner of the local ​shipyard Ventis reveals that they are the suppliers of the spars of yachts like Elena and Germania Nova. Next winter, Iduna will be left in their capable hands for her yearly maintenance period.
Want to know more? Read the story about S/Y Iduna.