One of the reasons why Invisible Crew is specialised and passionate about the Pocket Superyacht niche is its personal nature. The confined space of a yacht smaller than 100ft dictates that the contact between crew and owner is more amicable and less formal than on larger yachts. One would think that such interpersonal dynamics make the job easier but it's quite the opposite. Over the years I have witnessed how these dynamics result in blurred lines.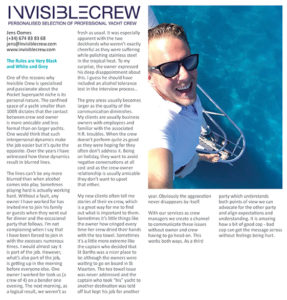 The lines can't be any more blurred than when alcohol comes into play. Sometimes playing hard is actually working hard. Without a fault, any owner I have worked for has invited me to join his family or guests when they went out for dinner and the occasional party that follows. I'm not complaining when I say that I have been forced to join in with the excesses numerous times. I would almost say it is part of the job. However, what's also part of the job, is getting up in the morning before everyone else. One owner I worked for took us (a crew of 4) on a bender one evening. The next morning, as a logical result, we weren't as fresh as usual. It was especially apparent with the two deckhands who weren't exactly cheerful as they were suffering while polishing stainless steel in the tropical heat. To my surprise, the owner expressed his deep disappointment about this. I guess he should have included an alcohol tolerance test in the interview process…
The grey area usually becomes larger as the quality of the communication diminishes. My clients are usually business owners with employees and familiar with the associated H.R. troubles. When the crew doesn't perform quite as good as they were hoping for they often don't address it. Being on holiday, they want to avoid negative conversations at all cost and as the crew-owner relationship is usually amicable they don't want to upset that either.
My new clients often tell me stories of their ex crew, which is a great way for me to find out what is important to them. Sometimes it's little things like the owner how cringed every time her crew dried their hands with the tea towel. Sometimes it's a little more extreme like the captain who decided that St Barths was a nicer place to be although the owners were waiting to go on board in St Maarten. The tea towel issue was never addressed and the captain who took "his" yacht to another destination was told off but kept his job for another year. Obviously the aggravation never disappears by itself.
With our services as crew managers we create a channel to communicate these issues without owner and crew having to go head-on. This works both ways. As a third party which understands both points of view we can advocate for the other party and align expectations and understanding. It is amazing how a bit of good cop – bad cop action can get the message across without feelings being hurt.
Jens Oomes – Blog feature in the Islander magazine issue of May 2016