It's a beautiful winter day in Mallorca as I write this article. Exactly a year ago we were contracted for the professional yacht delivery of a brand new Sunseeker 75 from Port Adriano Mallorca to Tribunj in Croatia. The sea was still settling after a Mistral when we left. The air was chilly but the sun was out. The wheel house was comfy and there was coffee.
Our professional yacht delivery service starts weeks, sometimes months, before we cast off.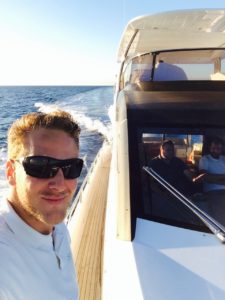 It is always Invisible Crew's goal to provide a complete service that requires the minimum involvement from the client. This is a great responsibility so we do everything we can to put the owner's mind fully at ease.
We start by making a passage plan, taking the yacht's specifications into account. Delivering a motor yacht with a 300nm range across the Mediterranean requires precise planning. We contacted all the fuel stations days before departure to book our time slot.
We inform the client of a realistic time-frame and how we aim to avoid delays. Clear agreements on situations of force-majeur eliminate discussions and surprises afterwards.
We present a team with complementing skills. On last year's delivery, we were a team of three.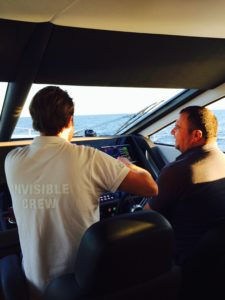 Deck / Engineer Ted had done a transatlantic professional yacht delivery for Invisible Crew before. He has several seasons of experience on similar motor yachts.
Captain Taz has done a lot of miles for Invisible Crew. He has a great amount of experience on both sail and motor yachts. He actually worked for Sunseeker and knows their systems well.
First Mate Jens. I had appointed myself as First Mate knowing that Taz has more experience as captain on motor yachts than me.
The first stopover was in Cagliari in the South of Sardinia. Our preparation avoided losing 12 hours with the added expense of spending the night in a marina.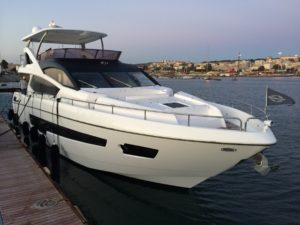 Fuelled up, we pointed the bow to Malta for the registration of the new yacht. The very helpful Vicky Meyer from Sunseeker coordinated communication between owner, lawyer and crew. Vicky had booked our berth in Grand harbour Marina as well as fuel. I'd almost believe she booked the benign weather we had on the last two legs of our trip.
We had another smooth fuel stop in the south of Italy and a safe passage to Sibenič Croatia. Knowing that we had to checking in a yacht with a 1 day old Ship's Registry paper, we were prepared to answer some questions. Understanding your paperwork is part of a professional yacht delivery too.
At the marina in Tribunj, the owner was waiting to see his new yacht for the first time since the Dusseldorf Boat Show. So during the last couple of miles we packed our bags, collected laundry and hoovered the interior. I looked at the cushions in the salon and wondered "What would my wife, the interior designer, do with this."
The owner's wife gave it a look of approval as bottles of champagne were opened. A satisfied customer in a festive mood was the result of our efforts!