Last month I was invited to speak on the Future of Superyachts conference. Initially a daunting prospect as I was imagining an audience of suits with stern faces who would all want to hear about… about what actually? Ironically the conference took place in Hotel Saratoga where, 3 days prior I performed with my band for an audience of cheerful people who were letting their hair down. This was going to be very different!
Speaking over the phone with the people of Quaynote, the organisers of this event, months prior to the date, put my mind a bit more at ease. In fact, it made me realise that I am probably operating in an area of the industry which most of these people won't be so familiar with. I could then see how it might be interesting for them to learn more about Pocket Superyachts. Most of the guest will be involved with large commercial vessels that have to be managed with a long list of complicated rules and regulations in mind. But the complications involved with the smooth running of a 15-30 meter luxury yacht is a whole different kettle of fish. When managing these smaller yachts the emphasis lies more with the social interaction between the crew, owners and guests. It can hardly get more complicated than that. And for this, there is no rule book available.
Of course, it would be a boring chat for these people if it wasn't related to their spectrum of the industry. So the organisers asked for my point of view on how the 15-30m yacht niche works as a stepping stone for Super Yachting.
The answer is quite clear to me. There are many examples of owners who started with smaller yachts and then progressed. Some step by step, like the owners of Aqua Equinox, a Swan 56, later a Swan 80 with the same name and currently the Baltic 112 Nilaya. Or the wonderful couple who approached me a couple years ago proudly telling me about the acquisition of their Jeanneau 64. They told me with some trepidation that they were dreaming of an Oyster 885. "If this goes well we will be very serious about that" they said. A year later they bought Richard Matthew's Oyster 125 Twilight.
More importantly perhaps, the Pocket Superyacht niche is an important breeding ground for quality crew who progress to larger yachts. As much as it frustrates me at times, the 15m to 30m yachts are definitely a stepping stone for aspiring superyacht captains. Some of our captains have run charter yachts and have gradually taken on larger and larger yachts while becoming familiar with the standards and technical aspects. We often recruit superyacht 1st mates to fill the captain's position. Many of them end up running superyachts and I am convinced that they make the most well rounded and skilled captains as well.
So, yes, no doubt the smaller yachts are important to the bigger yachts. The market of 18m to 24m yachts is booming and quality crew to run them are scarce. As I have written in previous Islander articles, there is a need for training on guest and owner interaction, service standards and the technical side of running these smaller yachts professionally. Feedback offered during the conference yielded some good ideas on this subject. So keep an eye on Invisible Crew if this is of interest for you.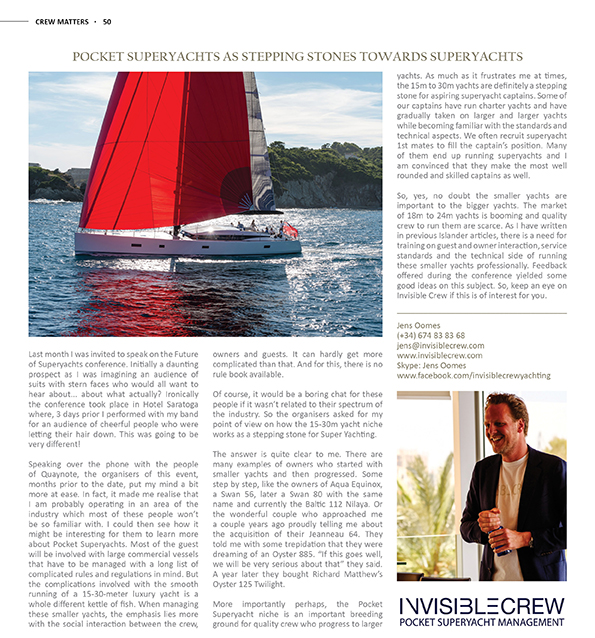 Article appeared in The Islander Magazine November 2019